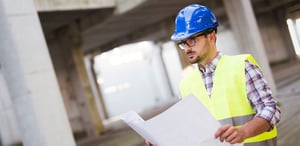 When your company is in need of concrete moisture testing, it's important to know that there's a significant difference between someone who has a general knowledge of the concrete moisture testing process and someone who's a true professional. Here are some of the characteristics that differentiate a concrete moisture testing professional from a generalist.
1: Specialized Expertise in Concrete Moisture Testing-- Concrete moisture testing professionals are experts in their trade. They've taken numerous academic courses approved by the International Concrete Repair Institute (ICRI) in the following four (4) ASTM Standards:
F 710: Preparing Concrete Floors to Receive Resilient Flooring; Section 5.2 pH Testing.

F 1869: Measuring Moisture Vapor Emission Rate of Concrete Subfloor Using Anhydrous Calcium Chloride

F 2170: Determining Relative Humidity in Concrete Floor Slabs Using in situ Probes

F 2659: Preliminary Evaluation of Comparative Moisture Condition of Concrete, Gypsum Cement and Other Floor Slabs and Screeds Using a Non-Destructive Electronic Moisture Meter
All ICRI-certified professionals have passed a written exam, as well as a field testing performance exam. As a result, these professionals have a deep understanding of how the tests should be conducted, and more.
2: Concrete moisture testing professionals do more than testing -- an expert in concrete moisture testing will know how to review and if necessary, rewrite specifications and coordinate schedules with the on-site project team. They strive to complete deliverables before their due dates and under budget.
3: Concrete moisture testing professionals communicate effectively -- A certified professional knows that communication among owners, the design team, suppliers, the contractor and subcontractors —including pre-construction meetings —is critical, and that all involved must fully understand the issues that will ensure a successful floor covering installation, and will act upon them.
A true professional takes the time to explain the available options, make recommendations, state the total costs, and promise a date when the work can be completed. All of the above empowers the customer to to make the right decisions.
4: Concrete moisture testing professionals follow exceptional guiding principles
Concrete moisture testing experts have a knowledge of the ethics of their field -- ethics that are agreed upon and maintained through widely recognized professional associations, such as the International Concrete Testing Institute, and ASTM. These professionals have high ethical and moral standards, and a commitment to being honest and fair in all of their dealings with others.
5: Concrete moisture testing professionals continue to build their knowledge
Experts in concrete moisture testing attend professional conferences and participate in professional associations to advance the knowledge of their industry. They use this knowledge to better inform their customers, and to maintain the highest level of integrity in the field.
IFTI's close relationship with the International Concrete Moisture Testing Institute (ICRI) provides us access to concrete moisture testing professionals across the United States. No matter where you're located, we can provide the experts you need. For more information, call us at 800-490-3657.